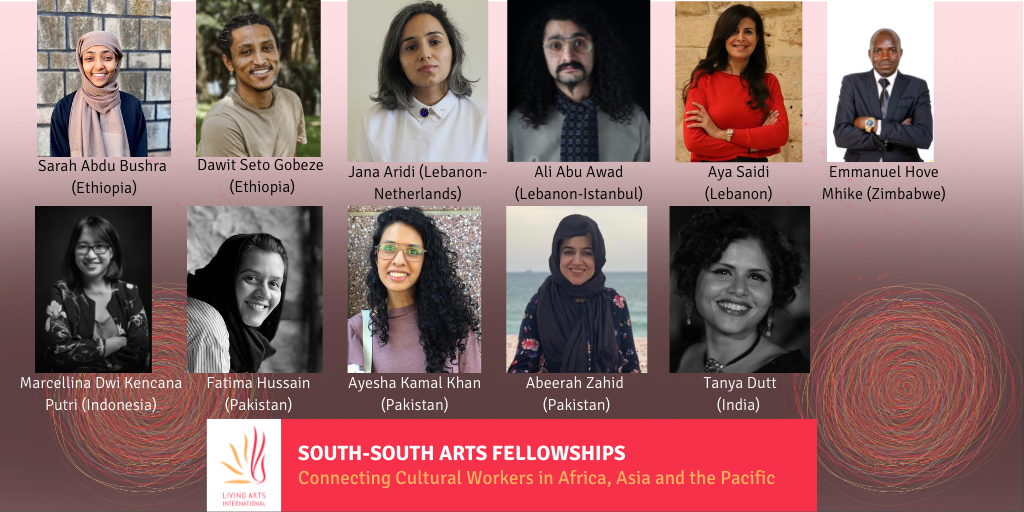 We are very excited to announce the Fellows selected from 200 applications for this pilot edition of South-South Arts Fellowships (SSAF) 2022!
We are awarding 6 Fellowships which bring together 11 fellows of 7 countries:
Contemporary Nights – Sarah Abdu Bushra & Dawit Seto Gobeze (Ethiopia)
Diwan of Culture, Design & Innovation (DCDI) represented by Jana Aridi (Lebanon-Netherlands), Ali AbuAwad (Lebanon-Istanbul) & Aya Saiidi (Lebanon)
Emmanuel Hove Mhike (Zimbabwe)
Marcellina Dwi Kencana Putri (Indonesia)
second practice – Fatima Hussain, Ayesha Kamal Khan & Abeerah Zahid (Pakistan)
Tanya Dutt (India)
During the Fellowship, which will run from June 2022 to February 2023, Fellows will share ideas and experiences, network and develop their personal and collaborative activities, under the supervision of our three advisors.
Find out more about our Fellows here!